Unable to Launch Flash Player
This message is being displayed because the browser was unable to load the Flash Player required to display this content.
There are several possible causes for this;
Your current Flash Player is outdated or it is not installed on your system. Download the latest Flash Player.
Your browser does not have JavaScript enabled, this is required to load the Flash content.
The Theme file used to generate this site may be missing the required JavaScript to launch the Flash player.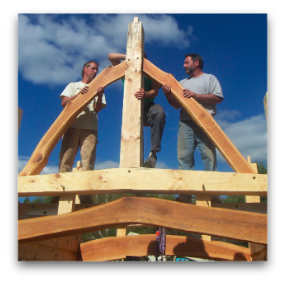 Welcome

Mink Hill Timber Frames has been designing and building the finest Timber Frames and Timber Frame Homes in New England since 1994. We specialize in hand-crafted barns, homes and other timber frame structures. We strive for the highest level of detail in our timber frames.
Please see our list of services, visit our gallery of timber framing in action and learn about our unique approach to timber framing. Contact us for more information.


Truly Hand Crafted Timber:
• Hand Riven Pegs

• Gunstock posts
• Draw bore joinery

• Hand carved lambs tongues and embellishments